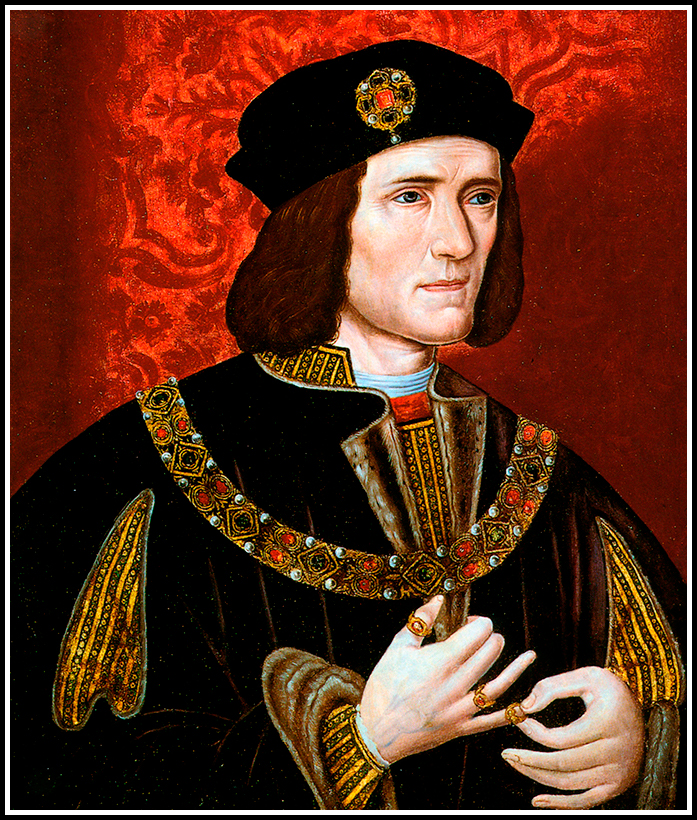 Richard III
Modern historians are increasingly inclined to believe that Richard III was a brave and valiant soldier, a loyal brother, and an intelligent, able king popular with his subjects and defeated only through treachery. The real Richard III seems to be the victim of a deliberate campaign of slander devised by his Tudor successors who snatched his throne.
However, some earlier historians also doubted the truth of Shakespeare's portrayal of Richard III as a murderous villain and a hunchback. For example, V.B. Lamb wrote in 1959: "Scrape away the accumulated filth of tainted evidence which has disfigured the memory of Richard III for the past 500 years, and there is really very little that remains mysterious about the outlines of his story. In fact, it can be summed up in one sentence: he accepted his dead brother's throne when it was offered to him at a moment of desperate crisis, and no record survives of the ultimate fate of his nephews."
At the end of False Rumours you will find my Author's Note which explains why I think the princes in the Tower were not killed on orders from their uncle and why they escaped to Lisbon via Luxembourg and Condom, disguised as pilgrims. This theory is a lot more plausible than the one that the princes' bones were found in 1674 at the bottom of a staircase in the Tower of London.
The Richard III Society
This is not a fan club! It is a society with over 4,000 members worldwide centred on historical research into the life and times, character, appearance and reign of Richard III. Its mission statement is as follows: "In the belief that many features of the traditional accounts of the character and career of Richard III are neither supported by sufficient evidence nor reasonably tenable, the Society aims to promote in every possible way research into the life and times of Richard III, and to secure a reassessment of the material relating to this period and of the role in English history of this monarch."
The Society's website is at www.richardiii.net
Jeremy Potter, a former Chairman of the Richard III Society, prefaced his book Good King Richard? as follows: "Could he really have been as black as he was painted by Tudor chroniclers and, if he wasn't, why do some historians go on saying that he was? Why is his enlightened legislation so little noticed? Is there any real evidence that he murdered his nephews, the princes in the Tower? Did he really have a hunchback or was it invented for him after his death as 'proof of villainy'? Is Shakespeare's Richard III a portrayal of the real Richard or no more than a character in a work of fiction? Was St Thomas More really a witness of truth?"
The Richard III Society publishes a quarterly magazine called The Ricardian Bulletin with news and articles, together with media and book reviews, and branch and group reports (it has 20 branches worldwide and 25 groups). It also publishes The Ricardian Journal which reports on research as well as reviewing academic books and papers.
Following up the Looking for Richard project which in 2012 found the king's skeleton buried in Leicester, the Society is involved in the Missing Princes project. This involves many people examining their local archives for clues about what really did happen to the princes in the Tower. By December 2016, over 75 different possibilities had been identified. But I hope that the most convincing one will be their arrival at the house in Lisbon of Sir Edward Brampton (where he was known as Duarte Brandäo).
Looking for Richard Project
Philippa Langley is a screenwriter who wanted to write a screenplay about Richard III. While researching his life and death she had a feeling that she had found the site of his grave – under the Social Services car park in Leicester.
In 2005 Philippa contacted Dr John Ashdown-Hill, historian and genealogist, who had already discovered the mtDNA of Richard III's sister, Margaret of Burgundy, and her descendant Joy Ibsen and which he later published in his book The Last Days of Richard III (2009).
In 2008, writer Annette Carson asserted in her book Richard III, The Maligned King that the king's grave was probably under the Social Sciences car park in Leicester, the same resting place asserted by Langley, her research indicating the northern end of the car park. The following year, Langley formed the Looking for Richard Project. Founder members included historian Dr David Johnson and his wife, Wendy. The project was joined shortly afterwards by Ashdown-Hill, and in 2011 by Carson. With help from Leicester City Council and, after an international appeal to the membership of the Richard III Society worldwide, University of Leicester Archaeological Services was commissioned by Langley to excavate the car park. Thereafter, Channel 4 and Darlow Smithson Productions began filming the dig for Richard's grave on 25 August 2012, the anniversary of the king's hasty burial in 1485 in Greyfriars Church.
King Richard's remains were discovered on the first day of the search, in what was originally the choir of the church, a suitable burial place. The discovery was in the northern end of the Social Services car park. Osteologist, Dr Jo Appleby confirmed that the skeleton showed no sign of disability, no hunchback, no withered arm. Instead it had scoliosis, a laterally curved spine which is a condition, not a disability, and which does not rule out an active lifestyle, fighting battles while wearing armour. This had been proved by Dominic Smee who has a similar scoliosis and for whom armour has recently been made in order to test what his mobility as a medieval fighter would have been.
King Richard III was reburied on 26 March 2015 in Leicester Cathedral, with dignity and honour during a service presided over by the Archbishop of Canterbury and the Bishop of Leicester. The Royal Family was represented by HRH The Countess of Wessex and TRH The Duke and Duchess of Gloucester.
The Richard III Society's work of seeking to restore King Richard's reputation continues and, in 2015, Philippa Langley launched another initiative,The Missing Princes Project.
The Daughter of Time by Josephine Tey (1951)


Good King Richard? by Jeremy Potter (1983)


Royal Blood by Bertram Fields (1998)


Richard The Third by Paul Murray Kendall (1995, 2002)


Psychology of a Battle: Bosworth 1485 by Michael K. Jones (2002)


Perkin: A Story of Deception by Ann Wroe (2003)


Richard III: The Maligned King by Annette Carson (2009)
The King's Grave: The Search for Richard III by Philippa Langley and Michael Jones (2013)


The Betrayal of Richard III by V.B. Lamb, revised by Peter Hammond (2015)


Richard III: fact and fiction by Matthew Lewis (2019)


Richard III: the self-made king by Michael Hicks (2019)


Richard III and the Battle of Bosworth by Mike Ingram (2019)
A Mystery of Blood and Dust
The new Belina Lansac Murder Mystery by Danae Penn
A Mystery of Blood and Dust, False Rumours and Les Princes et le Pèlerin by Danae Penn
are all available to purchase on this website, in bookshops and from Nichol Press
PURCHASE NOW